Piracy Alert – my24hourincome.com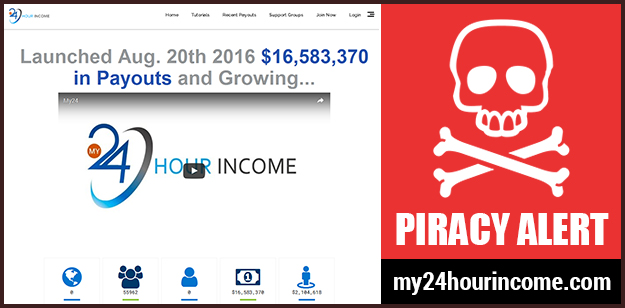 This Blog Post is regarding my24hourincome.com running on decoded version of our software.
First of all, we would like to clarify one thing that we have no personal grudge against Mr. Drew Burton or my24hourincome.com. The only problem is that he is using our software and that too decoded, which is totally against our Terms of Service. A very disturbing thing is that despite the fact that he is using our software, he is actually pretending that he is using a different software.
We have been given various names on the Internet and the purpose of this Blog Post is to provide proofs that my24hourincome.com is using our software. If required, we will take a legal action as well. However, taking a legal action is a time consuming task. Therefore, in the interest of both my24hourincome.com and us, it is better for Mr. Drew to use another script, otherwise we will be left with no option but to take a strong action against him.
He had given various excuses like the script was having security issues and other reasons, which is why he moved elsewhere. If the script is not good, then why is he still using our script? As per one of his videos, he mentioned that he is trying to help his existing coder team (hacker) to setup his script business. Not only this, he is promoting piracy, which is a crime. Do you think that we will easily allow someone to promote piracy of our script? It has taken us years to develop our script and we will certainly not allow anyone to use our pirated script.
Secondly, we would like to make all the investors of my24hourincome.com aware that the site is working with the support of a hacker. This hacker is helping Mr. Drew Burton by stealing our software, then he can also harm your data and do anything with it. Who knows he can sell your data elsewhere.
We would also like you to spare a thought on the future of the program. In a scenario whereby there is a legal complaint against my24hourincome.com, then the site will close down. Please don't regret later on when the site goes down and you lose your funds because we are alerting you. Or else, you can think that you have donated your funds to my24hourincome.
We will furnish all the evidences for you to see.
Piracy
We will provide you the proofs how the piracy of the script was done and how Mr. Drew Burton is involved in it
1. Blackmailing/Extortion
The Hacker – CROUZ MIND aka ALI KHAN MAKHDOOM This person had contacted ProXScripts in October and had blackmailed us to extort money from us. You can find the screenshot of his threat as below:
Click on Image to See the Complete Communication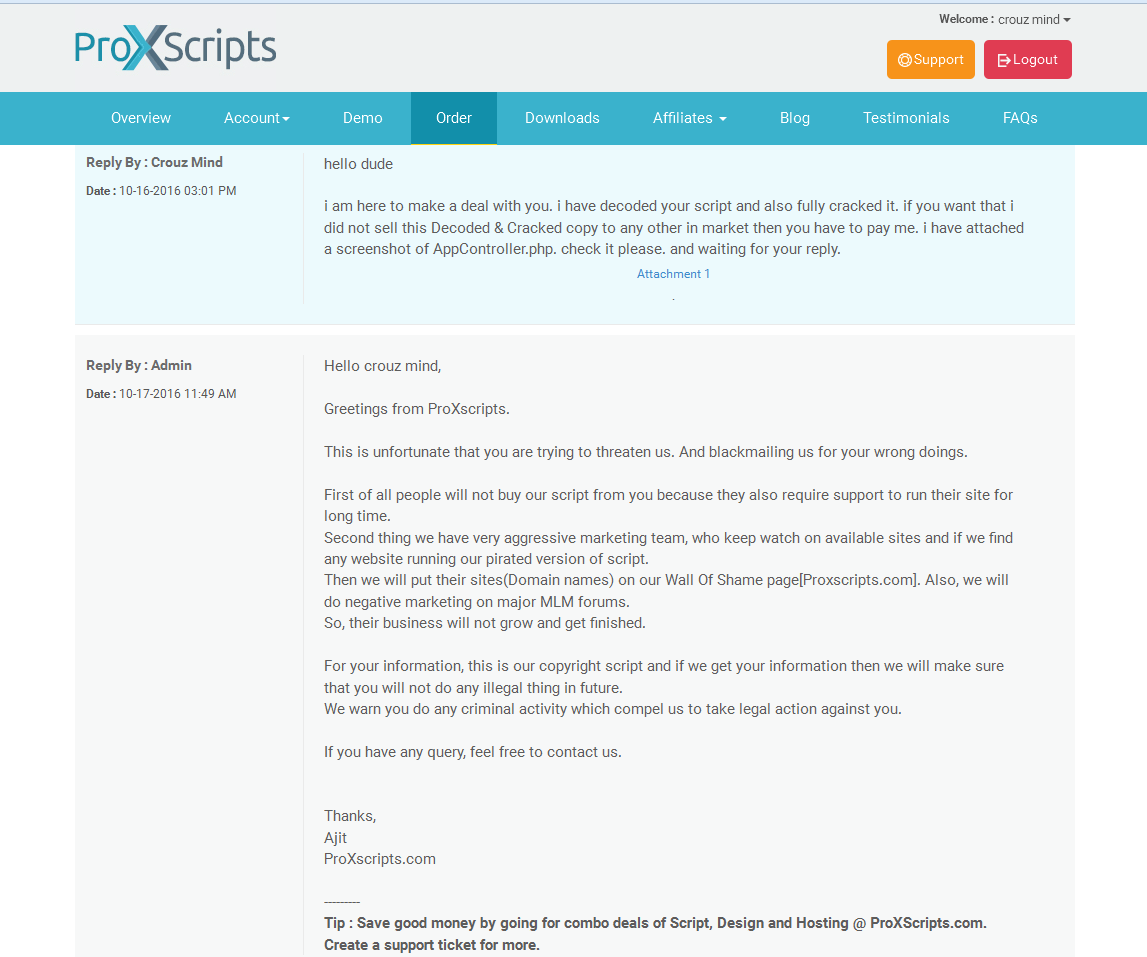 When we did not heed to his threat, he null-routed our software and started a site theadsleader.com and he uploaded our script demo on this site.
2. Hacker Started Contacting Admins
As you may be aware, that igniting fear is a tool used by many for selling. The hacker used this tactic by sending a Facebook message to many Admins. He used to send the same message to many Admins mentioning that there are problems with the software so that owners would buy the script from him. Most of the admins must have received this message from the hacker. One of the Admins has shared the following screenshot with us:
Click on Image to See the Complete Communication
We had provided the above screenshots to Mr. Drew (he made fun of this in his video)
The fans will obviously think that the above screenshots fabricated. If anyone feels that it is fabricated, then they can get it checked in a forensic lab to prove the authenticity of the screenshot.
3. Purchased Decoded Version of Our Script
You can see from the following screenshot whereby Drew Burton has admitted that he has purchased our decoded script from Crouz Mind. Jonathan also handles things at my24hourincome.com and both he and Drew purchased our pirated software from the Hacker. He is also in the friends list of Crouz Mind aka Ali Khan Makhdoom. You can see from the screenshot clearly that he has purchased our decoded software from Crouz Mind.
Click on Image to See the Complete Communication
After seeing the demo of theadsleader.com, he purchase our decoded script from the Hacker. He has also mentioned himself in the video that he was impressed by theadsleader.com. Therefore, he also purchased our pirated software.
We have created a video whereby when you search for theadsleader on Google, then you will see my24hourincome.com listed on the first page. The reason for this is that Google must have captured theadsleader.com's content in my24hourincome.com before they removed it. We have created this video because many people were claiming that he have twisted the screenshot of the same when we posted it earlier.
Mr. Drew Burton has mentioned in his video that they are using the cronjob of ProXScripts in his current script. Any technical person will know that it is not possible to use a single portion in another script because cronjob and database are connected. He has just made small changes like Design and CSS changes. Any good designer can do this task in few hours.
4. Details About The Hacker
The hacker deactivated his Facebook account the very second day after we sent the first email to our members regarding my24hourincome.com on 10th of January. But, luckily, we took a screenshot of his Facebook profile. Mr. Drew Burton or one of his Admins must have alerted the hacker that we have sent a mail and they must have asked the Hacker to deactivate his Facebook profile. We are attaching the screenshot of his Facebook profile as below:
Click on Image to See the Complete Communication
You can see from the screenshot that he is from Pakistan. Also as Drew mentioned in his video, he has initiated a startup (on a stolen software). Mr. Drew Burton is not innocent. He was very much aware that it was a pirated software and still he purchased it. He thought that he has purchased licensed script from ProXScripts, then he has the license to run pirated software as well. This is a misconception in his head.
We are 100% sure that this hacker (who has decoded our software) is involved in hacking attempts earlier of other sites because he has the decoded version of our software and he knows how to take advantage of the loop holes that were earlier in the software. We would like to let you know we have checked everything and there are no loop holes in the script as of now. Whenever there was an hacking attempt on a site, Mr. Drew used to backbite with the Admin and used to tell him that a particular Admin of another site is involved in hacking so that one Admin fights with another one. Such negative thoughts come to such negative persons only.
We have the proofs of this, but we will not furnish the same because it is not related to this case.
5. Live Site  
The site is live and we will provide you all the evidence of the same.
Mr. Drew must be login into our admin panel on a daily basis and he can clearly know from our admin panel, then he is using our ProXCore software.
=> Accessing Admin Panel of our Script
The following is the link to access Admin Panel of our script:
https://my24hourincome.com/adminpanel/login
You can see from the above link that it is opening, but he has kept IP restriction, which is why the message "Permission Denied!" is displayed. The URL is accessible. This means that it is our script and we would like to let you know in order to change the Admin Panel URL, it requires major changes and each and every file needs to be changed in order to change the word "adminpanel" in the link. Obviously, he did not have that much time to modify the entire script. So, he just changed the design and fonts and added some functionality, which is not a big deal.
=> We are also providing a PDF of the screenshots of some of the pages of both our ProXCore Script Demo my24hourincome.com along with the URLs. From these, you can easily know that my24hourincome.com is using our script.
=> Emails that members of my24hourincome.com receive
The email format of my24hourincome.com is same as of our script.
Communication with Mr. Drew
The following is the ticket we sent to Mr. Burton on 3rd of January, 2017. He did not respond to this ticket and we waited for his reply for one week, but he never replied. Then only we sent the email to our members on 10th of January, 2017.
Click on Image to See the Complete Communication
After the email was sent to our members, then he opened a ticket to us on 11th of January, 2016.
We are attaching all the communication of this ticket with Mr. Drew. We had never asked him to make payment in 12 hours. We had asked him to choose one option from the three options and asked him to update us in 12 hours. You can clearly see the same from the following screenshot.
Click on Image to See the Complete Communication
As per his communication with Mr. Mayur, he clearly gave him a suggestion to switch to different script and then only go for source code. Then, why did Drew Burton not choose a different script? We are attaching the screenshot of his communication with Mr. Mayur and we are not scrolling the message. We are providing the actual screenshots.
Click on Image to See the Complete Communication
Click on Image to See the Complete Communication
Videos
He makes videos because no one will see his videos again and gain to verify the facts. No one has the time to see one hour videos again. People won't remember everything that he has said in his video. If he drafts an email, then it is easier for people to search exactly what he has said. Mr. Drew's purpose of posting videos is to shift the focus from the problems in his site to blaming us. Anyway, we saw the video and we would like you to give a thought about the following:
At minutes (8.05) -24.16 minutes – In his video he has mentioned "if you think I have a pirated version of your script, then let's work out something". He is the one who suggested to workout something and now instead he is blaming us that we are blackmailing him. This is heights of hypocrisy.
You can check the above on the following video which is posted on his Facebook Page:
Click on Image to See the Complete Communication
Conclusion
Drew Burton has mentioned that we blackmailed him to provide us $60000. The price we gave of $60000 is of the source code of our software. It takes many years and costs hundreds of thousands of dollars to develop a software. We are providing you each and every communication of Drew Burton with us. We had given him 3 options and we had informed him that the 3rd option is to purchase our open source code and the fees will be high. But, he deliberately chose the 3rd option and asked us about it. We suggested him to go for another script, but he didn't go for it. But, he is just acting innocent and asking for proofs. But, he knows very well that he is using our script.
We know Mr. Drew Burton has many fans, but there are people who follow us as well. When he says we are blackmailers, not everyone will believe it. There are people who stand with the truth. In fact, we have been receiving many tickets regarding this and now we will provide them the link of this Blog Post.
We would never ever harass anyone who uses another software. We are fighting because our software is being used illegitimately. We will constantly fight until he does not move to another software.

Categories :
General