Black Friday Discount
Dear Friends,
It's the time of the year to enjoy discounts. Yes, Black Friday is here and we are offering a massive 25% discount on our ProXCore Software and all the modules.
Discount Duration:
Starting on: 29th November, 2019 (12:00 AM Indian Time)
Ending on: 3rd December, 2019 (12:00 AM Indian Time)
No coupon code required. No need to open a ticket to us for the discount.
Just go ahead and purchase your favourite script at this fantastic discount.
Note: Discount available on ProXCore Script version 2.4 only.
Should you have any questions or require our assistance, please do not hesitate to open a ticket.
Terms:
1) Discount applicable on new purchase only.
2) Discounts not applicable on upgrades.
3) Discount not applicable on Add-ons or customization.
4) No refunds available once you purchase the product on discounted price.
5) No Affiliate commission applicable for software purchased at discounted price.
Thank You!
– Team ProXScripts.com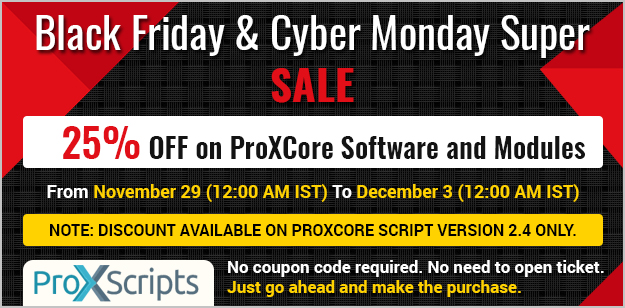 Categories :
Uncategorized