Your chance to get a discount on ProXCore Script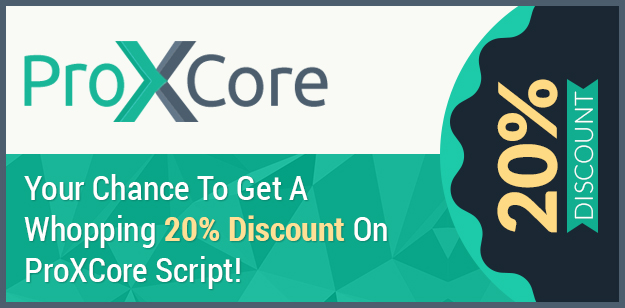 Update: The offer has been closed.
Hey Friends,
It's been quite some time since you heard from us. There have been many of you who have asked for a discount on our script time and again.
So, here's a golden opportunity for you to get a discount on your favourite ProXCore Script. We are offering a 20% discount on purchase of ProXCore Script and modules.
How To Avail The Discount
1) Purchase our ProXCore Script along with the module and make complete payment.
2) Like our ProXScripts Page – https://www.facebook.com/Proxscripts/
3) Either share our Facebook page link or share our ProXScripts website link on your timeline with the following message:
Check out the ProXScripts website for best #RevenueSharing #TrafficExchange and #Matrix Script.
Best Software + Best Support = ProXScripts
https://www.facebook.com/Proxscripts/
https://www.proxscripts.com/
4) Share your Facebook profile URL via ticket at Proxscripts.com
5) After verification, we will provide you a refund of the discounted amount. PayPal payments will be completed within a week and payments via other Payment Processors will be completed in 1 or 2 days.
Important Terms & Conditions for this Discount Offer
1) Discount not applicable on Branding Free option, script upgrade, script installation etc. Discount applicable on Script and Modules only.
2) Your Facebook account should be active and at least one year old. Please do not create a new Facebook account for this offer as it will not be considered eligible to avail the discount.
3) This offer is valid only for script purchases made between 14th September 2016 to 14th October 2016.
PS: This offer has to be claimed by October 14, 2016. Discount will not be provided if the offer is claimed after October 14, 2016.
Hurry Up! Don't miss this chance!
Cheers!
~ Team ProXScripts

Categories :
Announcements, General, Press Release, ProXCore