Important Announcement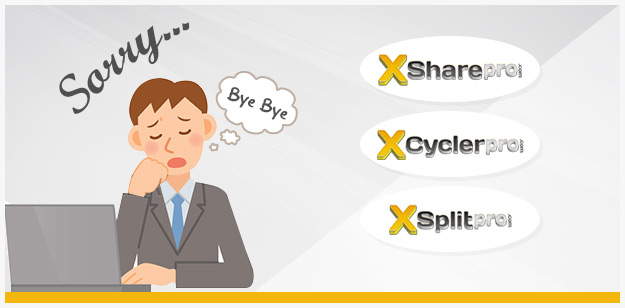 Guys, brace yourself for some important news!
Well, we have an important announcement to make regarding our products.
Firstly, we have discontinued xCyclerPro script from our portfolio. Therefore, we are not selling it anymore. The reason for this is, as all good things come to an end, the life cycle of the xCyclerPro has ended.
We are also discontinuing our xSharePro and xSplitPro scripts from now onwards.
You will find all the functionalities of xSharePro script in our xSharePro2 script and more. You will also find the functionalities of xSplitPro script in the xSplitPro2 script. Kindly note that the xSharePro2 and xSplitPro2 are still part of our portfolio and you can purchase them.
Before you panic, let us clarify one thing. If you have already purchased the xCyclerPro, xSharePro or the xSplitPro scripts, rest assured you will continue getting our tech support if your support period is still active.
It is our endeavour to provide timely support services to our respected clients. In order to save time and utilize that time to provide you with better support services, we have discontinued the above three scripts.
All in all, this decision would be a win-win situation for both you and us.
P.S. – We are coming up with our newest and a fantastic script very soon in the year 2015. With this super script, you will be able to add modules as per your requirements.  We are sure you are already feeling the excitement! Watch out this space for more!

Categories :
Announcements, xCyclerPro, xSharePro, xSplitPro